Dark, meditative music group Shibalba will release a new studio album titled "Nekrologie Sinistrae (Orchestral Noise Opus I)" on October 2nd via Agonia Records. In anticipation of the album the band revealed a new song, which is available for streaming at this link: https://youtu.be/9nA6aJAEqRw
Shibalba is a project whose main focus is set on expressing shamanic, trance-like music, by the use of ethnic instruments and musical technics peculiar to religious rituals. The new album "Nekrologie Sinistrae (Orchestral Noise Opus I)" for the first time introduces industrial elements to the band's sound.
Alongside traditional instruments (such as Tibetan horns & singing bowls, bone & horne trumpets, darbukas, ceremonial bells & gongs or percussion instruments made of bones and skulls) the band incorporates contemporary synthesizers and guitar drones. The music is richly detailed and multidimensional, while its outcome is deep, unsettling and subconscious, offering an otherworldly voyage.
The new album was recorded, mixed and mastered by George Emmanuel (Lucifer's Child/ex-Rotting Christ) at Pentagram Studio in Greece. Giacome Del Po's painting "At The Gates Of Hell" graces the cover artwork.
The band commented: "A blazing craft of lavish transmissions, blend within the obscure soundscapes of the past emissions and new, vivid dark experimentations. Industrial noise vessels, harsh physical ritualistic vibrations and death-mind drones, materializing new undiscovered horizons. Passing through 8 tunnels of self-initiation and empirical gnosis, 8 Daemons manifest the atavistic metamorphosis of Nekrologie Sinistrae. The seal and pathway of formless Divination unto the reverend, oracular depths of Nekyia. A thralling drone from deep within, that enchants the dreadful journey from the bowels of the Earth to the otherworldly gnaw of the Astral worlds and the worlds beyond them. A brazen drape of taming omnipotence and a cycle of unchained immortality. The Ancient tongues bear infinite Wisdom to the ever-present, channeling the Gnosis of the dwelling spirits of the under-worlds upon the blazing flame of Will, unto the endless Becoming. The Mission behind this Esoteric Art is to Guide the Subconsious of the Individual to Dream Beyond the Skin of Matter & to Dream in Ecstasy and Exaltation. The Magical Trip is Boundless. ATI ME BETA BADKA!"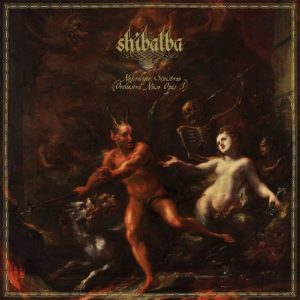 Tracklist: 1. Δαήμων Tunnel A 2. Δαήμων Tunnel Β 3. Δαήμων Tunnel Γ 4. Δαήμων Tunnel Δ 5. Δαήμων Tunnel Ε 6. Δαήμων Tunnel Ζ 7. Δαήμων Tunnel Η 8. Δαήμων Tunnel Θ
Shibalba line-up: Acherontas V. Priest // Aldra-Al-Melekh