*When did you really get involved into music in general and into metal specific? Who was responsable for your interest in (metal) music?
I was around 13 years old when I got into metal. My friend Daryl Orebaugh, who lived down the street, introduced me to all things metal! We used to hang out and listen to records, mostly Sabbath and Iron Maiden.
*Which artists or bands did influence you the most?
Starting out I would say Metallica, Sabbath, Dio, Judas Priest, Ozzy's Blizzard of Ozz era with Randy Rhoads and Iron Maiden. There's obviously more, but these are my core influences from the beginning.
*Which instrument do you play and how and when did you learn to play? Did you had lessons in school or private lessons? If so, was that because your parents expected that from you? Or did you learn to play the instruments by yourself? Do yo still follow some lessons?
I play guitar in the band. I started when I was fourteen years old. I took lessons for about 6 months to a year on my own accord, just long enough to be able to figure out how to play some of my favorite songs. Lol! Then I quit because it was getting expensive. And yes I started taking some lessons again while we were writing 'Valhalla'. I wanted to step up my game for this album.
*Do you follow other or are you intrested in other styles of music beside metal? If so, what is the music you prefer to listen to?
There's other music besides metal?
*Is music a full time job for you now or do you have a job beside music? If so, what kind of job are you doing? If you would be really succesful with music, would you quit your other job?
I'm a personal trainer by day. But now with the way things are, that job is on hold. So, I am a full time musician by default. And yes I would quit any job to be a full time musician!
*If you could start a band with other musicians on other instruments, which artist would you pick for wich instrument and why? (Something Like an "All Stars Band".) Would you still go for a doom / stoner metal band? Or would you do something completely different?
It would be straight metal. I would have Des from High On Fire on drums, Geezer Butler on bass, Randy Rhoads on lead guitar and Ronnie James Dio on vocals. I think the reason is self explanatory Lol.
*If you had been banned to an uninhabited island and you may pick 5 albums to listen to, wich albums would you choose and why?
1. Ozzy's Blizzard Of Ozz because it introduced me to Randy Rhoads phenomenal playing.
2. Iron Maiden: 'Somewhere In Time'. I feel like this album is peak Maiden with Bruce Dickinson. Huge influence on me.
3. Black Sabbath: 'Heaven And Hell'. It's a damn near perfect metal album.
4. Dio: 'Holy Diver'. Fantastic song writing from Ronnie and the guitar work from Vivian Campbell is stellar.
5. Metallica: 'Master Of Puppets'. The best Metallica album in my opinion. It's iconic. The songwriting, subject matter and execution culminated into the most influential thrash metal album of all time.
*Every new album of a band or an artist is the best one, that's what they always say. So here is a chance to promote the album. Why should a music lover buy your album? What are the standout tracks for you on this new album and why?
Our self titled debut had a lot of positive feedback. And we were all really satisfied with the outcome. But we really wanted to step it up with what would become 'Valhalla'. We worked our asses off writing this album. Everything had to be bigger and better and we held each other to task. We feel this is a step up for Wolftooth in writing and musicianship and our strongest work to date. It sounds cliche to say that, but it's really true. I'd say for me, the stand out tracks would be 'Valhalla', 'Firebreather', 'Scylla And Charybdis', 'Fear For Eternity', and 'Crying Of The Wolves'. I think style wise they all have something new to offer our fans.
– See "CD-Review" for a review (written in Dutch) for the new Wolftooth album 'Valhalla' (Ripple Music) –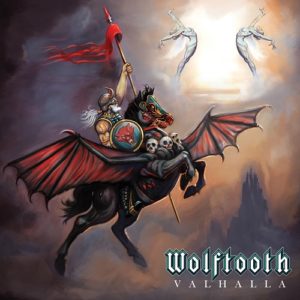 *I suppose you will promote this album through live concerts (when of course everyting is getting back to "normal" after the Covid 19 disaster). If so, would you prefer small clubs or big festivals? And is there a chance we can see Wolftooth in Belgium?
We will be doing both hopefully, when the world returns to being somewhat normal again. We would love to come to Belgium! And if we get the chance, you will definitely be the first to know!